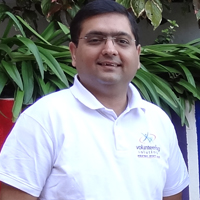 ---
Saurabh is the Executive Director and Founder of VS.He has travelled extensively around to over 22 countries across the world including Australia, South East Asia, Africa, South America, US and Canada. After studying abroad for over 6 years he came to India and got actively involved with non government organizations in India, after which he founded Volunteering Solutions in late 2006. Since then he plays a major role in the working of the company. He is also responsible for visiting program coordinators around the world and visiting projects to make sure volunteers are happy on their trip. You can write to Saurabh for almost anything related to our company at:
saurabh@volunteeringsolutions.com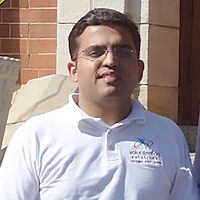 ---
Sahil was born in Delhi and graduated from Delhi University with a Bachelor in Commerce (Hons). After graduating, he worked with Fluor Daniel India after which he joined Volunteering Solutions in 2008.In 2010, he completed his MBA from Stratford University. Sahil coordinates all the volunteer placements around the world, supervises the volunteer preparation and is also responsible for monitoring the projects around the world. He spends most of his time working in tandem with the project partners and staff all across the world.He has himself travelled across different program countries and is happy to answer any questions that volunteers have. You can write to Sahil for almost anything related to our company at:
sahil@volunteeringsolutions.com
PARAG (Travel Desk Manager India)
---
Parag is a native of Mumbai and graduated in Commerce from University of Mumbai.He has experience of more than 8 years of working in the travel industry at different levels. He is fond of travelling and has travelled extensively throughout India as well as various international locations. Parag joined Volunteering Solutions in 2013. He plays a key role by overseeing the product mix of the company and the different tour options offered to the travellers, both for Inbound and Outbound.
Namrata (Program Manager)
---
Namrata is a graduate in Advertising & Sales and lives in Gurgaon, India. She is always willing to give her advice and help volunteers. With a positive attitude, Namrata excels as the Program Manager - Asia & Latin America for Volunteering Solutions.
MUKESH (Senior Web Developer)
---
Mukesh Kumar has been working with Volunteering Solutions since May 2008. He has done Masters in Computer Application from Delhi and is responsible for Programing and upkeep of our website. Mukesh works along with a team of two other programming and designing staff at the office. If you would like to contact him regarding the functionality of our website.
DIPTI (SEO Executive)
---
Holding her roots from the royal state of Rajasthan, Dipti is working as an online marketing analyst with Volunteering Solutions from last 2 years. She holds a post graduate degree in English literature, and is Google adwords, analytics, as well as in-bound marketing certified. Been in the online marketing industry from 4 long years, Dipti is a hardcore wanderer and loves to explore new places every time.